Introduction
The Honor My Wishes logo pictures a cairn, path and bird. A cairn is a stack of rocks marking a safe path to follow, a practice used by travelers since ancient times. Each of the following three sections include documents necessary to outline a path for loved ones to follow, assuring dignity, security and peace for an individual reaching life's end, represented by the bird in flight.

NOTICE:
The Honor My Wishes (HMW) Guidebook is written with Washington State law in mind, and is not intended to substitute for professional medical, legal or financial advice. The HMW Guidebook suggests recording information regarding personal identity. It is important that you store this Guidebook in an accessible but secure location.
No part of this HMW Guidebook may be reproduced or transmitted in any form or by any means, electronic or mechanical, including photo-copying, recording or by any information storage and retrieval system without written permission of Honor My Wishes®. For those individuals filling out this HMW Guidebook, it is permissible to copy any and all pages with forms intended to be completed by the owner of the HMW Guidebook. Copying for educational purposes is permitted, with prior written permission of Honor My Wishes®. You may copy without prior written permission the Health Care Power of Attorney and Directive (HCPAD) and the Body Disposition and Funeral Agent Authorization forms.
Contributions to Honor My Wishes are appreciated to help keep our products affordable to all, and are tax deductible. EIN#77-0599945.
Every life is unique, and so it is with life's end. Whether a moment in time or a decade long, everyone will experience "life's end". What will yours be like? Are you going to leave it to chance? Your stewardship of planning for end of life can make a fitting end to your 'Golden Years', not only for you but for your family and loved ones. Unfortunately for some, their end of life may be the longest, loneliest and most challenging time of life. This Honor My Wishes® (HMW) Guidebook helps individuals make or direct choices regarding end of living decisions for themselves or a loved one, bringing dignity, security and peace to life's end.
Addressing everyday obligations of a hectic lifestyle becomes a comfortable excuse to avoid weighty questions involving your death. This is not an easy task, but is a necessary one. Difficult conversations are easier to deal with while we are healthy, before being forced by circumstances. Legal documents can only be signed by those with competency, and should be addressing future needs and not past failures to act. Some families are torn apart by the difficulty of caring for a failing parent or the handling of an estate distribution without the owner's guiding hand. The issues facing an individual or their family at end of life can be wide-ranging, with a multiple of variables. While you cannot foresee all possibilities, this Guidebook covers the needs most people will encounter.
Implementing even a part of this Guidebook will take substantial time, energy and thought, but the outcome will be rewarding. It is meant to be thorough and comprehensive, and a quick review should include at least the pages marked in the top right corner with our mini-logo.
Our Guidebook is the proud accomplishment of many individuals residing on the Enumclaw plateau in Washington. There are several organizations that made the HMW project successful, and significant contributions were made by the Robert Wood Johnson Foundation - Last Acts Partnership & Rallying Points, St. Elizabeth Hospital located in Enumclaw, and the Franciscan Foundation. Technical assistance was provided by Respecting Choices® of LaCrosse, Wisconsin, and Anne Crandall Graphic Design.
We are a non-profit corporation, and have operated since our beginning in 2001 solely with volunteers. Even without paid staff, we incur expenses of providing speakers and programs, and in the further development of this Guidebook. We appreciate your tax-deductible donations. Please consider contributing financially or with in-kind services to help us grow.
Please note this Guidebook's focus is for Washington State, although we provide resources on a national level and the concepts covered are universal. Washington State allows for two individuals under certain circumstances to register as domestic partners, granting them many rights similar to married couples. The terms spouse, married couple or spouse/partner means to include 'state registered domestic partner'. We do not endorse any one decision over another, take responsibility for your choices, nor guarantee the services of organizations mentioned as resources. Every municipality, county and state are unique in their laws and regulations, and you must familiarize yourself with the rules of your own locale. With so many different cultures mixing in our country, there are a host of ideas for dealing with end of life. What ideas do you wish for yourself?
*This well known poem sometimes titled "Gone From My Sight" or "Parable of Immortality" was
often attributed to Henry Van Dyke, with several other poets considered possibilities, or was considered anonymous. Research in recent digitization of older works discovered this as published in Northwestern Christian Advocate on July 13, 1904 (and in two other publications as well), written by Beecher and titled "What is Dying".
Page 1
---
W
e expect our personal dignity to be respected and honored at every stage of life. This is especially true regarding our personal health care needs and choices. As long as we are able, we control the choices for medical treatment and the plan of care related to any illness or injury we face. We can complete an Advance Directive (AD) for those times we are unable to make a decision, but it must be done prior to any incapacity. As we face end of life, medical decisions become difficult. Harder still is leaving the decision to someone else. Who will make the decisions for you? Will it be a group of people arguing amongst one another over what is right and what is wrong? Will the decision maker agonize over choices, not really knowing what you might have wished for? Whether or not your loved ones can handle your medical choices at life's end in a dignified manner will depend on your AD and the discussions you have with your Agent and loved ones.
Studies show half of all people who die are incapable of making health care decisions at the end
stages of life - others are directing the care for them. The proclamation "My family knows what I want" or "No heroics" are common reactions in conversations about dying. Both statements are inadequate to guide loved ones in making life-sustaining treatment decisions on your behalf, and demonstrate an unwillingness to be responsible for your own future. You may believe these issues are addressed by a Health Care Directive to Physicians, also called a Living Will. Unfortunately, a Health Care Directive / Living Will by itself has been demonstrated to be ineffective. There are many reasons, but in general it does not address the circumstances under which most of us will die.
Every adult should protect their personal dignity in the event of a tragic accident or terminal
illness by completing a thoughtful AD, and naming someone to make health care choices for them. The person you name is referred to as an Agent. Without an Agent, the priority order of those granted legal authority to make decisions on your behalf may not be the person(s) you would choose. It is first your court appointed Legal Guardian if any; then your designated Agent if any; then your spouse or registered partner; then your adult children; then your parents; and then your adult siblings. Since we cannot predict when we might need one, it is important that every adult over 18 take the time to thoughtfully complete an Advance Directive naming an Agent.
A Health Care Power of Attorney & Directive (HCPAD) appropriate for Washington State is
provided for you at the end of this section. This is both a Power of Attorney, naming your Agent, and a
Health Care Directive / Living Will combined. For other states see Resources: Advance Directives, pg. 67.
For some individuals the completion of an additional document, the Physician Orders for Life
Sustaining Treatment (POLST), may be appropriate (see Dignity page 4). The POLST puts your specific wishes for life sustaining treatments into a physician order, instructing what first responders should do in emergencies.
Page 2
---
Completing an Advance Directive
Health Care Power of Attorney and Directive (HCPAD):
The Living Will, known in Washington as a Health Care Directive, was an early attempt to address end of life care. Alone, this document is restricted in scope and does not address many issues and decisions faced at the end of life. IMPORTANT: If the documents you have carry only the title of Health Care Directive or Living Will, you need to complete a Health Care Power of Attorney.
Each state has their own rules for Advance Directives. HMW created a Health Care Power of Attorney and Directive (HCPAD), an Advance Directive for Washington State, provided at the end of this section. It combines the legal language of the Health Care Directive (Living Will) with a Health Care Power of Attorney. This HCPAD gives directives to your doctor and appoints an Agent to make medical decisions for you if you are unable to answer for yourself.
Completing the document takes only a few minutes, but a thoughtful process will make the document more powerful. It takes time to select the right person to act as your Agent. You should consider your present health condition and what kind of health care decisions your Agent may need to make for you. Reflect on your personal values and goals, and what it means for you to have a meaningful living existence. Your document will more probably be honored if you discuss it with your doctor, your Agent and loved ones. Without those discussions, there likely could be difficulties.
Instructions for proper completion:
Read the document carefully. Changes may be made to the document by adding to or crossing
out the words in question. Initial all changes prior to signing.
Select your primary and secondary Agents. Carefully consider the person(s) whom you would trust to make medical decisions for you. Talk with them about this responsibility and secure their willingness to act on your behalf. Name a back-up Agent. Clearly write names and list all contact information. Review if conditions change or at least every five years.
A Health Care Directive requires two witnesses. Initial each page, date and sign it in the presence of two witnesses who are 18 years or older. Witnesses should not be an Agent and:

CANNOT be employees of or acting as your health care professionals.
CANNOT be related to you by blood or marriage.
CANNOT have any claims against you, nor have interests in your estate.

Commencing 2017, signing a Health Care Power of Attorney requires either notarization or witnesses as above. Until 2017 this document need not be witnessed or notarized, but a Notary does provide for greater acceptance and may be required in other states. The Notary can be one of your witnesses. Documents done prior to 2017 will remain effective after the new law commences.
Entrust the document in the following locations:

Retain the original for yourself, and store in an accessible location. An option is for your primary Agent or doctor to hold the original.
Deliver copies to your primary doctor, and your primary and secondary Agents.
Consider online registration. Resources: U.S. Living Will Registry, pg. 62.
Changing or revoking this document:
If you later wish to change any aspect of your HCPAD, you will need to complete a new document. You may revoke your HCPAD at any time by giving verbal or written notice to your doctor and Agent(s). You should seek the return of the original and all copies of a revoked HCPAD, destroy the copies, and write "VOID" over your signature on the original.
Page 3
---
Health Issues To Consider Prior To Completing The Document
Healthy Adults:
A tragic accident, stroke or brain injury are the greatest risks facing healthy adults that may cause permanent incapacity. Because of advances in medical technology, the body may be sustained in a vegetative state for many years. It is important to discuss your feelings about these issues with your family. Consideration should be given to whether you would want to be kept alive if there were one or more of the following conditions:
No hope of brain recovery.
Permanent inability to recognize those around you.
No independent ability to move.
Permanent inability to swallow.
Total reliance on life support equipment.
Adults with a long-term or incurable progressive disease:
Often we are unaware of how our health condition has affected the function of our body or we under- estimate the severity of our illness. An adult who has terminal cancer, an incurable disease, chronic heart disease, lung problems or organ failure needs to weigh the benefits and burdens of treatment options to address their specific condition and the issues they may have to face. One should explore how your illness will affect the ability to withstand vigorous treatment. Significant permanent changes in your health status may affect your body's ability to withstand the medical interventions of life-sustaining treatments. As a result, your feelings about such interventions may change. Discuss with your Agent(s), loved ones, and primary care providers your choices regarding such possible issues as:
CPR (Cardio-Pulmonary Resuscitation).
Pain management.
Mechanical ventilation.
Other life-sustaining treatments.
Physician Orders for Life-Sustaining Treatment (POLST):
The POLST form replaces the older "EMS – No CPR" form in Washington State. The POLST is for use by any adult with a serious health condition who wishes to have their Advance Directive choices for life-sustaining treatments (cardiopulmonary resuscitation, use of antibiotics, artificially administered fluids and nutrition, and general medical intervention) documented as an actual Physician Order. Because first responders, such as a 911 medical unit, are obligated to provide treatment on an immediate basis without checking for the desirability for medical care, a POLST is useful as it will require that medical treatment be limited to the level prescribed by the patient and doctor. This document is prepared and signed by you, or your Agent if you are incapacitated, along with either your doctor, physician assistant (PA) or licensed nurse practitioner (ARNP). POLST forms are often available through your provider. Resources: Washington State Medical Association, pg. 67, National POLST, pg. 68.
Page 4
---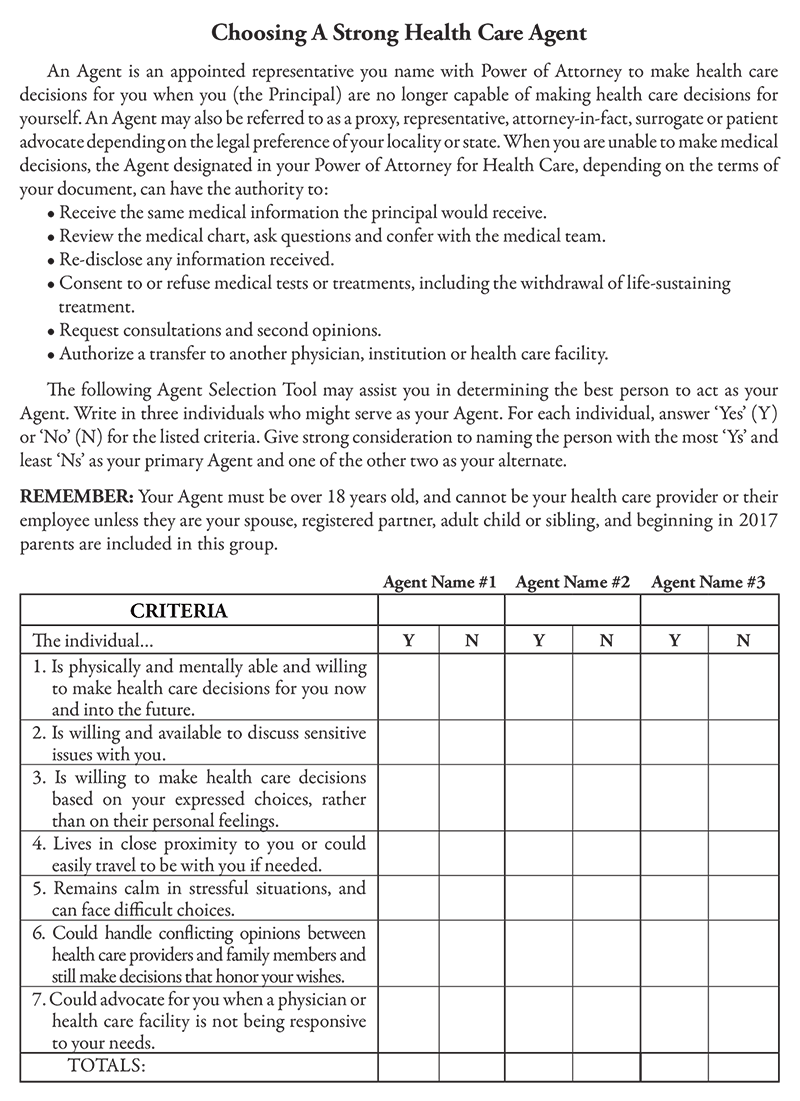 Page 5
---
Creating an Addendum to the Health Care Power of Attorney
Completing the Health Care Power of Attorney and Directive (HCPAD) establishes who will speak for you. It provides little in the way of painting a picture of what your personal values and goals for your life may be, or what it means for you to have a meaningful living existence. An optional addendum to your HCPAD attempts to provide a written personal statement to clarify the parameters around which you would choose or deny treatment choices. It could help your Agent and physician develop a better idea of what your life wishes might be in a given situation. Additionally, consider an addendum an opportunity to share your feelings about your trust in and love for those who will be involved in making very difficult and possibly painful decisions. While completing this personal addendum can be a very emotional experience because it causes us to reflect on our own dying, the measure of love and peace it can provide to those who read it is beyond anything "legal" that we prepare.
The American Bar Association has a downloadable Tool Kit for Advanced Care Planning, which will aid individuals in writing an addendum. Resources: American Bar Association, pg. 63.
Instructions for creating a meaningful HCPAD addendum:
REMEMBER: No addendum can outline precisely what to do in every circumstance. These documents do not replace actual meaningful conversations with your Agent about your personal values for life and living but can provide some helpful direction.
On pages 7 and 8 you will find four sample addendums to review. You are welcome to copy or borrow from these samples in creating your own personal addendum.
Review Life-Sustaining Treatments - Benefits and Burdens on pages 9 and 10 to make yourself aware of the life-sustaining measures that may need to be employed. Life-sustaining treatments include any procedure or treatment intended to sustain biological functioning. All offer potential benefits and burdens as a result of treatment.
Review Reflections Regarding Quality of Life on page 11 for some introspection on difficult issues.
Address your addendum to the person(s) who will read it. What would you want them to know about your trust in them, your feelings for them and a final message to them?
Take time to review your addendum with your Agent and physician if appropriate. It may provide the necessary springboard for clarifying conversations that could prove to be very important.
Sign and date your addendum. Make copies and include it with each HCPAD you provide to others (hospitals, physicians, family, your Agent, etc.).
Page 6
---
Addendum Samples
The following four examples may provide insight for your own ideas and feelings you may wish to incorporate in your Advance Directive Addendum. Again, remember to think what would you want them to know about your trust in them, your feelings for them and a final message to them.
Pages 7 & 8
---
Life-Sustaining Treatments - Benefits and Burdens
Any treatment that maintains life for an individual is considered a life-sustaining treatment, which can range from complicated surgery to taking antibiotics. The treatment can be considered beneficial if it will likely prolong life and if it will restore some standard of health. It may be considered burdensome when weighing the cost of treatment, if the treatment does not restore an acceptable range or standard of health, if significant pain is produced, or even if the end result is psychologically harmful. The following are some intended benefits and potential burdens of several different types of treatment options.
Cardiopulmonary Resuscitation (CPR):
Used for reviving a person when their breathing and/or heart has stopped.
Intended Benefit(s):
In healthy individuals with no underlying illnesses, success rates are 40% or better to return to previous standard of health.
Some Potential Burden(s):
Adults hospitalized with serious life-limiting illnesses such as cancer, diabetes, or previous heart damage generally have less than 5% chance of surviving and returning to the previous health condition.
CPR involves chest compressions, which may break bones, complicating recovery.
Intubation with Respirator:
A tube is inserted into the larynx via the mouth or through an incision in the throat, and mechanical breathing is maintained by either a machine (respirator), or manually with a hand bag.
Intended Benefit(s):
Normal breathing rhythms are maintained, and the exchange of oxygen allows the lungs to recover from injury or infection.
This can provide for permanent breathing support.
Some Potential Burden(s):
Individuals with chronic lung problems generally never recover to their previous health condition.
Artificial Nutrition and Hydration:
Provided via a tube in the veins, through the nose, or surgically embedded in the stomach.
Intended Benefit(s):
Allows for nutrition and water support during a period of time when the individual cannot feed or drink for themselves. Can be maintained indefinitely.
Some Potential Burden(s):
In patients who are approaching death and whose organs are shutting down, artificial food and fluids are often not properly handled by the body. Sometimes this causes a variety of complications and possibly severe discomfort.
A surgically embedded feeding tube may be difficult to remove depending on particular circumstances.
Pages 9
---
Antibiotics:
Intended Benefit(s):
Used to treat infections and return the individual to their prior state of health.
Some Potential Burden(s):
Depending on underlying health conditions, a decision not to treat a secondary infection may be considered. Two examples are treating the pneumonia of a severe Alzheimer's patient or the urinary tract infection of a cancer victim approaching imminent death.
Choices are dependent on understanding the patients' goals for how they want to live out the remainder of their life.
Dialysis:
The removal of bodily waste from the blood by machine or by fluid passed through the belly.
Intended Benefit(s):
When kidneys stop working properly, the body builds up waste in the blood. Dialysis replaces the work of the kidneys and prolongs life.
Dialysis is especially important for individuals appropriate for a kidney transplant.
Some Potential Burden(s):
Dialysis requires a commitment of multiple times a week.
The process of dialysis often leaves the individual exhausted.
Patients not appropriate for kidney transplant may decide that dialysis treatments and the life-long commitment required are no longer worth it.
Major Surgery:
Intended Benefit(s):
Procedures are intended to return the individual to their prior health condition.
Some Potential Burden(s):
Major surgery may be too disruptive emotionally or psychologically. For example, consider whether you would want surgery for colon cancer to extend your life if you are a patient with advanced Alzheimer's.
Completing a POLST to Direct Life-Sustaining Treatment:
Depending on your current medical condition and how you feel about these treatment choices, you may wish to talk with your primary care provider about completing a POLST (see Dignity page 4). More clearly than any other document, the POLST directs care providers to provide only the level of support you want. POLST forms are available through your provider. Resources: Washington State Medical Association, pg. 67; National POLST, pg. 68.
Pages 10
---
Reflections Regarding Quality of Life
The circumstances surrounding your particular injury or illness are unpredictable, and may vary from creating only short-term complications to permanent mental and physical disability. These reflection questions are intended to assist you in developing a description of what "quality of life" means to you. By putting your description into the words of a personal addendum for your health care directive, then taking the time to discuss it with your Agent, you will increase the likelihood your wishes will be honored regarding life-sustaining treatments.
How willing am I to accept assistance managing my finances, appointments, and daily living errands as long as I am aware of the time and date?
How willing am I to accept being wheelchair bound, as long as I am aware of the time and date?
How willing am I to accept the assistance of others to feed me as long as I am aware of the time and date? Being kept alive through a feeding tube?
How willing am I to accept being dependent on others to assist me in getting out of bed independently, bathe and dress as long as I am aware of the time and date? Being permanently bedridden?
If I am permanently brain damaged and unaware of my own name or those of my spouse / partner and children, unable to remember the time, date or place for less than 5 minutes, would I desire life-sustaining treatment?
Would I prefer to be fully sedated to the point of not being able to interact with my environment in order to be pain free, or tolerate some pain if there were any chance of becoming conscious again?
Where would I like to die – my home, a hospital or some other setting? What important personal belongings, such as artwork, photos, etc. would I want present?
Who would be important to have present at my dying, and should my death be delayed for purposes of travel concerns for others in order for them to be with me at the time of death? Should pets be present, and what comfort therapies like music or massage would I hope for?
What final messages would I want to share with my Agent and loved ones about the difficult choices they may face in handling my health care?
Pages 11
---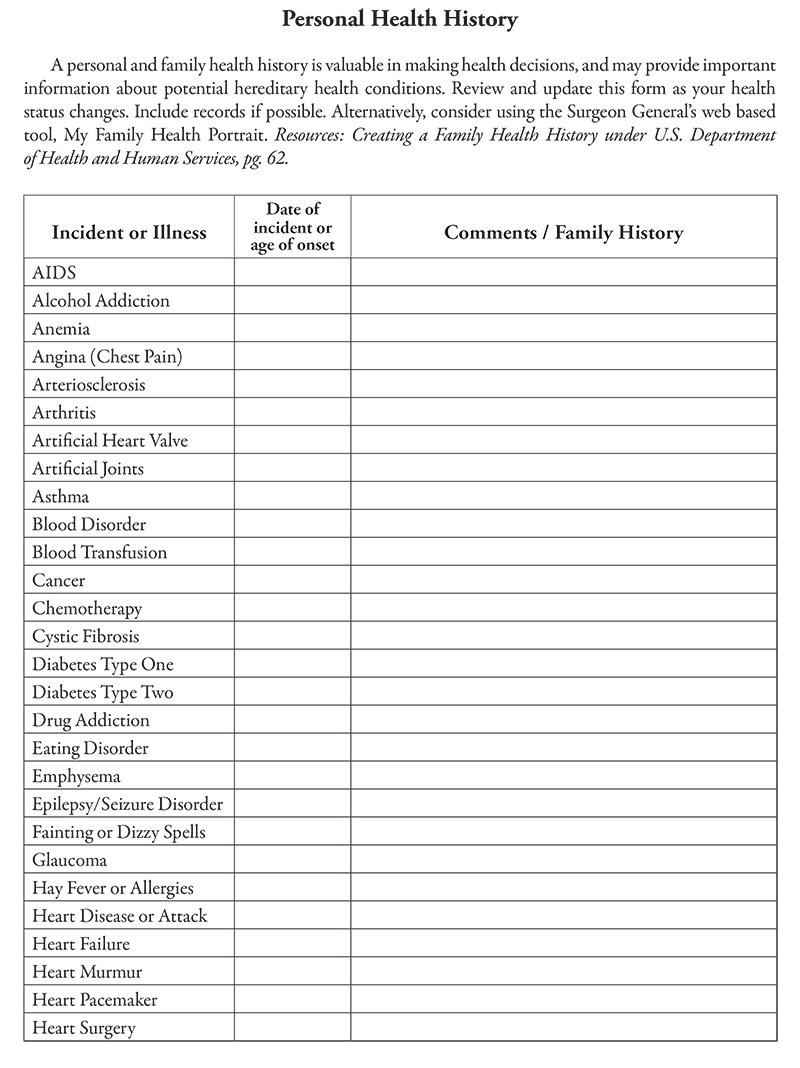 Pages 12
---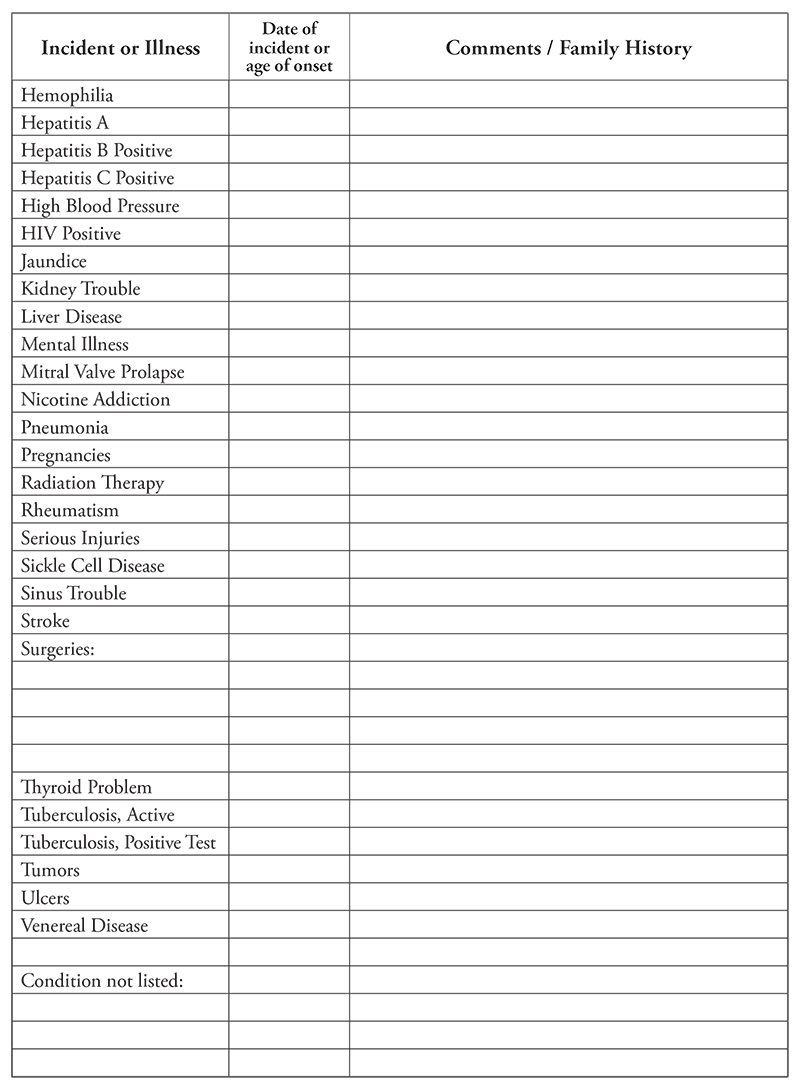 Pages 13
---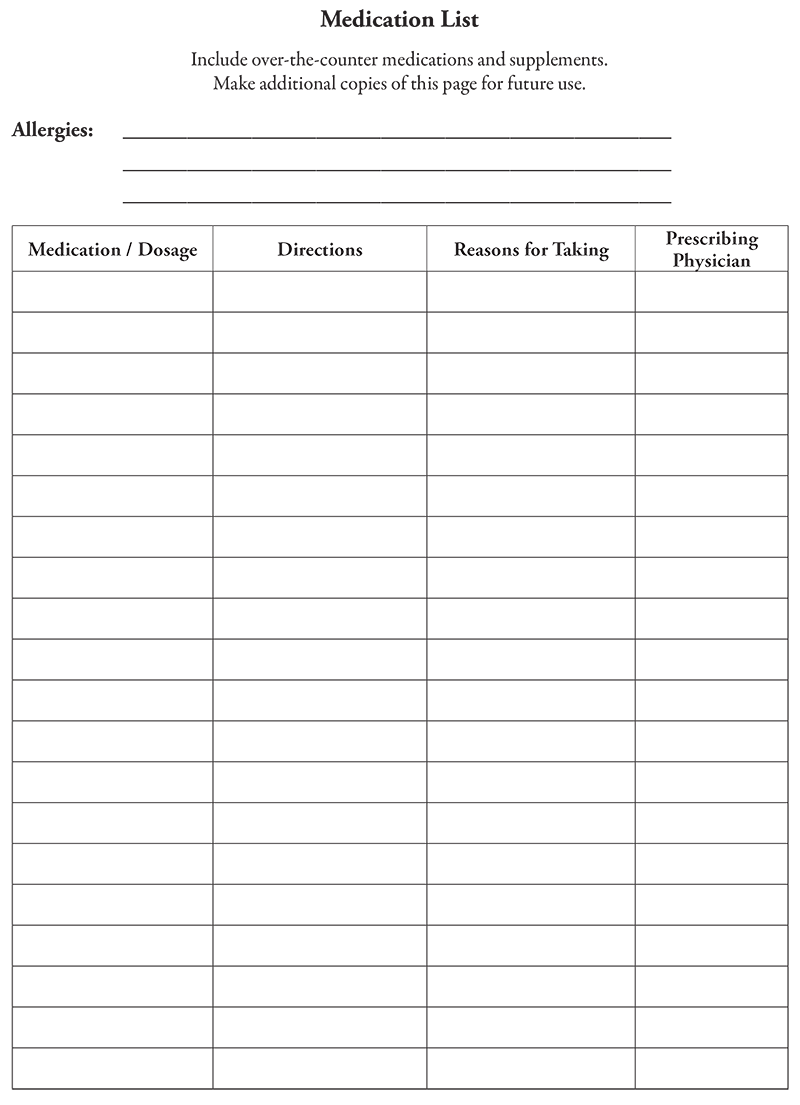 Pages 14
---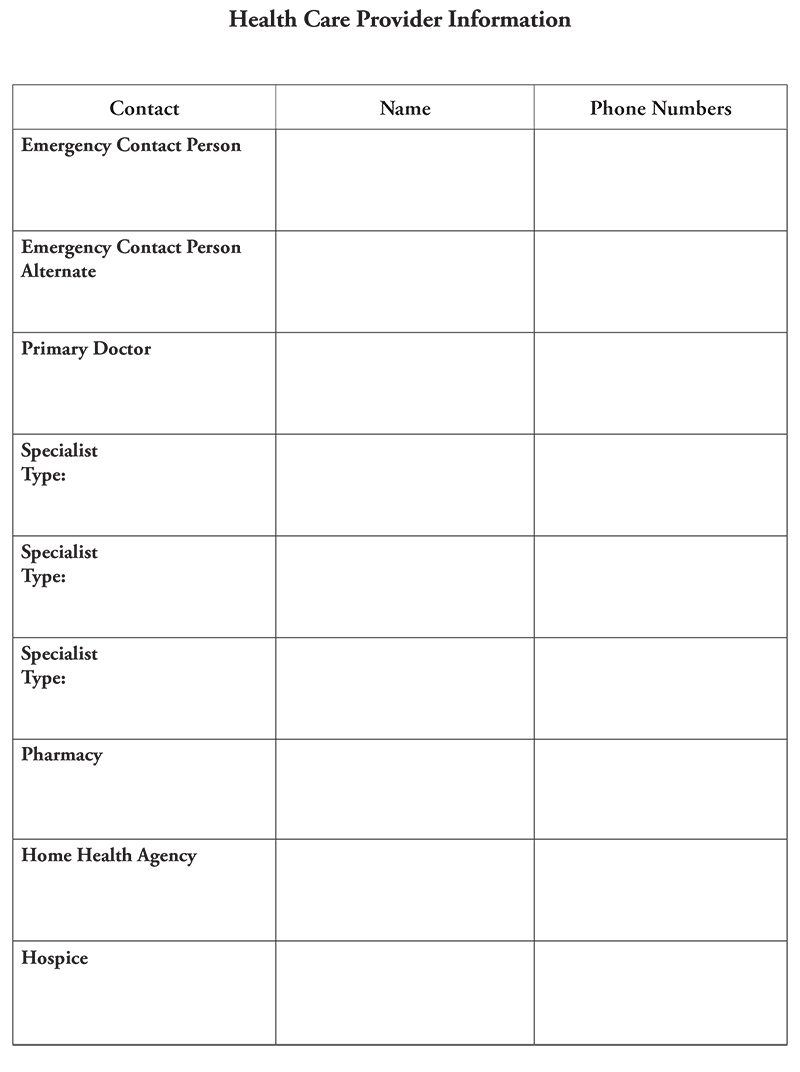 Pages 15
---
Organ and Tissue Donation
Most people support the concept of organ and tissue donation, but don't sign the documents necessary to make it happen. Over 90,000 people in the United States are waiting for a lifesaving organ transplant. There is no cost for donation, your funeral plans do not have to be altered and you have the potential of impacting the lives of up to 50 people with your donation. If you have chosen to become a donor, please discuss this with your family and Agent(s). Resources: Organ and Tissue Donation, pg. 68.
IMPORTANT: A body must be maintained on life support for several hours to allow sufficient time for the retrieval of organs. Medical history and physical condition at the time of death determines what organs and tissues may be donated.
Body Donation:
Donating your body to medical science and education can be a meaningful way to leave a final gift to humankind. People choose body donation as an alternative to costly funeral plans, as cremation is included at no cost. Individuals have two body donation options: medical schools, or private and non-profit corporations. "Willed Body" programs generally refer to plans made in advance by the individual with an institution, and "Whole Body" is when the family donates after death. The Body Disposition form at the end of the Peace section may be used for either program. Each program operates differently as described below, so be certain your family knows and understands your wishes. Resources: Body Donation, pg. 67.
Willed Body Programs to Medical Schools or Universities:
In general:
Registration does not necessarily mean your body will be accepted. The donation may be refused, so you must have alternate burial plans in place.
Charges for transporting the body to the school may apply.
You may not be an organ donor prior to your body going to the school.
Your body remains under the jurisdiction of the school. At the conclusion of their studies, which may take up to four years, all remains are cremated and disposed of according to plans made in advance with the family.
The return expense for cremated remains within the continental United States or Canada is paid for by the school / university.
Whole Body Donation to Private and Non-Profit Anatomical Research Entities:
These organizations facilitate the placement of non-transplantable human organ and tissues primarily for medical science and education research worldwide. Transplantable organs and tissues may be retrieved and donated prior to the body being received by the agency.
Most individuals are accepted regardless of age or illness.
Generally costs for transportation and cremation are assumed by the agency.
You may be an organ donor prior to your body going to the agency.
Parts of the body used for research may be sent worldwide and are not returned. Unused body parts are cremated and returned to the family often within two weeks.
Pages 16
---
Living Independently, Home Health and Hospice Care
When we are faced with a life-limiting illness and have previously been independent, it is overwhelming to begin navigating the health care service options. This brief outline of agencies, boarding arrangements and health care options can be a starting place. Consult your primary care provider, county Senior Assistance office, local Senior Center, library or U.S. Administration on Community Living. Resources: U.S. Administration on Community Living under U.S. Dept. of Health and Human Services, pg. 62.
Senior Apartments:
Apartments designed for and serving only senior residents. Low-income apartments provided under Federal Section 202 may require a long wait list. Senior apartments typically provide a higher level of privacy and fewer services such as laundry or housekeeping.
Assisted Living Apartments:
These facilities generally provide a range of services for those who need supervision and help getting through the day. Some facilities are willing to help coordinate your care at life's end with additional outside support such as hospice or private-pay aide time. Assisted Living Facilities may involve a long waiting list and making a deposit.
Generally Provide:
Studio, one or two-bedroom apartments.
A variety of meal plans, housekeeping and laundry services to choose from.
Activities.
Varying levels of assistance with health care and living issues depending on the facility and the plan you choose.
May also provide limited local transportation.
Generally Cannot Provide:
Skilled nursing care.
Enough staff support for individuals requiring a lot of care due to incontinence, advanced dementia or Alzheimer's, or who require assistance with transfers from chair to bed, toilet, etc.
Adult Family Homes:
Adult Family Homes are residential homes licensed by the state to care for two to six residents.
Generally Provide:
Increased caregiver time to client.
Meals, laundry and transportation.
Coordination of medical care.
Often willing to keep a client until death.
Generally Cannot Provide:
Nursing Home / Skilled Nursing Facility / Rehabilitation Centers:
These hospital-like facilities provide short and long term care for patients recovering from an acute illness or accident, or for those needing significant services at the end of life.
Generally Provide:
Skilled nursing care, physical and occupational therapy.
Meals and laundry.
Activities.
Pages 17
---
Continuing Care Retirement Communities:
These are privately owned complexes which charge one large up-front fee. They provide graduated living options responding to the level of care required at different stages, moving from independent apartments to assisted living units to a nursing home. Generally residents must be healthy when they first sign on.
Home Health Care:
Most insurances, Medicare and Medicaid may cover some of the cost of Home Health Care, if the service has been prescribed by a doctor, is provided by a certified agency and the patient is essentially homebound.
Generally Provide:
Nurses, Social Worker and Nutritionist.
Bath aides.
Physical, Occupational and Speech Therapists.
Privately paid homemakers.
Hospice Care:
The philosophy of hospice is one of comfort-focused care for people with an illness limiting life to six months or less, although hospice care can extend well beyond six months. Hospice teams typically can include a medical director, nurse, home health aide, social worker, psychiatrist, nutritionist, physical therapist, occupational therapist, chaplain and volunteer, all working to provide the best possible quality of life for the patient and family. These services may be provided in your private home, assisted living, nursing or adult family home. Expenses are covered under Medicare Benefits, and are often covered in most health insurance plans. Resources: National Hospice and Palliative Care Organization (NHPCO), pg. 65.
Generally Provide:
Pain and symptom management.
Medications and equipment related to the terminal illness.
Emotional and spiritual support for patient and family, including bereavement.
Consultation on financial matters.
Coordination of care with other care-givers, including volunteers.
Education and training for loved ones in the skills required to meet the changing needs of the patient.
Short term respite care to relieve fatigued care-givers.
Generally Cannot Provide:
24-hour care giving.
Funeral and burial expenses.
Medicines and equipment not related to the terminal illness.
Caregivers:
Caring for a declining loved one can be a vastly rewarding but significantly exhausting endeavor. A caregiver must pay close attention to their own emotional and physical needs to avoid burnout and isolation. Senior Centers are good local resources to ask for referrals to support groups, and investigate daycare and transportation options. Sometimes it seems no matter what the caregiver does, they are met with disapproval from the patient or other family members, so getting outside authority for decisions and extra help is advisable. Even if a caregiver chooses to donate their services, they should consider a "Contract Service Agreement" outlining expectations. This may be important later for reducing the value of an estate for Medicaid purposes. Consideration of estate issues is covered in the Security section. Resources: Eldercare Locator, pg. 61; U.S. Administration on Community Living under U.S. Dept. of Health and Human Services, pg. 62.
Pages 18
---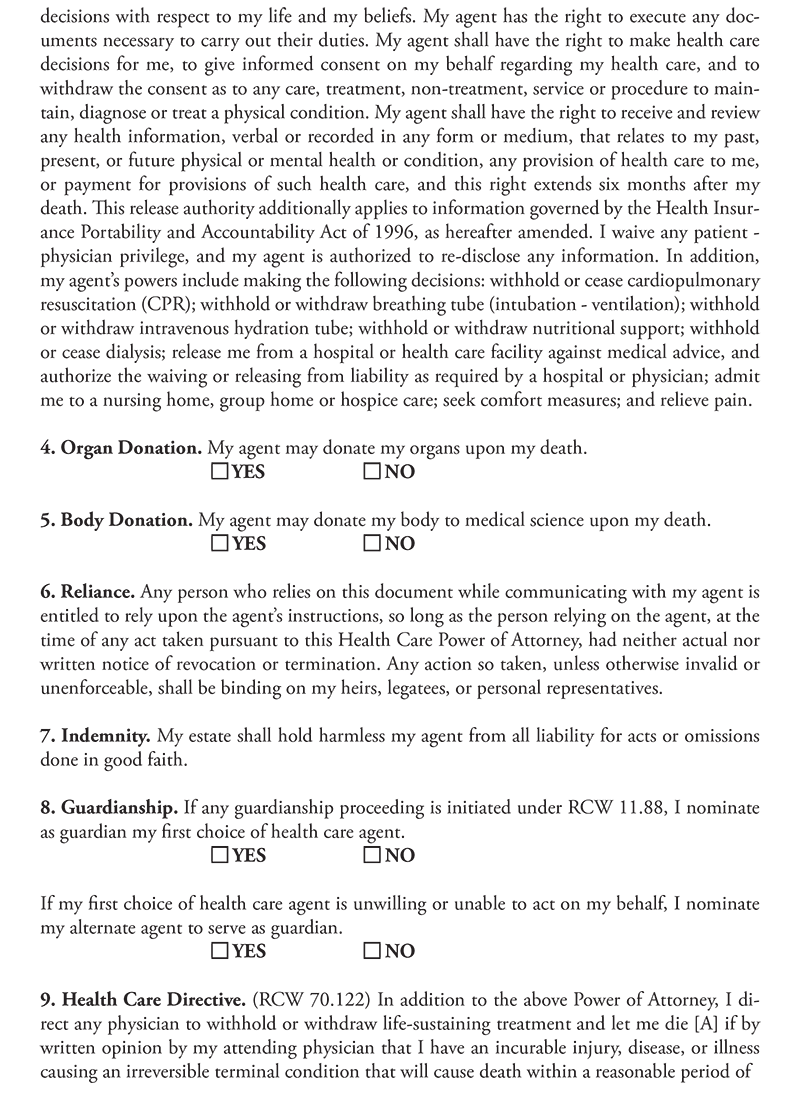 Page 19
---

M
any of us do not take the time to organize our legal and financial documents and record critical facts. Have you taken care of your estate needs to provide your survivors the knowledge and ability to honor your wishes, or might you be leaving a bit of a mess? Each of us should take responsibility for the security of our affairs at life's end, and by properly planning avoid significant anguish for your loved ones. There are many issues that may surface during these times, and this section of the Guidebook assists you in arranging valuable information to handle these affairs. Having your legal and financial information updated, organized and easily accessible is a gift for survivors.
The strategy for achieving your objectives must address issues for both after and before death. If you cannot make medical decisions, you probably won't be able to make financial decisions. Is a guardianship in your future? Will you have enough assets or resources remaining before death to support your desired quality of life? What if an unplanned illness requiring institutional care exhausts all savings or assets? We tend to worry about estate taxes, but with the federal limit over $5 million and Washington state over $2 million, only a few of us are likely to be exposed. Instead, we should seek to preserve assets from potentially being expended on long-term care and medical costs. If one dies without a Will, there are laws that govern distribution of assets. Do those laws coincide with your wishes? There are laws for reimbursing the government for Medicaid expenditures. Are your assets strategically held with those laws in mind? Proper planning and thoughtful consideration are needed to secure your wishes for the distribution of your estate upon your death. Some important documents include:
A Durable Power of Attorney names an Agent to manage your finances and assets and remains effective in the event you become incapacitated. It's effective date can even be limited only to when you do become incapacitated. It can avoid a guardianship, and may even minimize the need for a probate. This financial Agent may be a different person than your Health Care Agent. You may choose to have your Agent keep the original, and you should consider having more than one original.
A Will ensures that your assets will be passed according to your wishes. Not having a Will complicates the probate process, and may raise unnecessary hardships.
Rights of Survivorship: Knowing which of your assets can be transferred without a Will, such as accounts held with Rights of Survivorship, is essential. Having important information gathered in one location will enable the individuals working on these problems to efficiently secure your estate.
A Community Property Agreement between spouses/partners can convert separate property to community property and transfers community property at death to the survivor, avoiding probate.
List: Attorneys, accountants, financial advisors and insurance agents might have a role to play, and their names and contact information should be readily available. Provide additional pages where necessary so that all of your relevant information is available.
These and other legal documents identifying important information about your assets will be necessary to make effective transfers. You may wish to place copies of these documents directly into the Guidebook, or indicate where they may be located. For information on protecting yourself from Identity Theft, see Resources: Federal Trade Commission, pg. 61.
Your family and loved ones will truly benefit by your thoughtful preparation.
Page 20
---
General Statement Regarding Powers of Attorneys, Wills & Probate
There are many issues concerning Powers of Attorneys (POA), Durable Powers of Attorneys (DPOA), Guardianships, Wills and Probates, so seeking advice or information from an attorney, the library or internet is advisable. The information below is not meant to be, or substitute for, legal advice; however, a few comments could be helpful as to why the following documents are valuable. In the Dignity section we learned half of us will not be able to make a medical decision at the end of life. If we cannot make a medical decision, we will likewise be unable to make a financial decision. It may be advisable to have a Durable Power of Attorney to protect your estate.
Power of Attorney:
As the Principal you may appoint a person, called an Agent, as your Power of Attorney (POA) to sign your name to contractual transactions and to handle your assets and finances. Such a POA automatically becomes void in the event you become incapacitated, or upon your death.
Durable Power of Attorney:
A Durable Power of Attorney (DPOA) remains effective even if you become incapacitated. A DPOA can even be written so that it becomes effective only upon the incapacity, although complicating issues may arise with this provision. Within certain limitations, a person with a Durable Power of Attorney can have assets transferred to the healthy spouse/partner, entitling the incapacitated person to Medicaid, and protecting the incapacitated person's assets from attachment. Such a DPOA can also transfer assets prior to death, avoiding the necessity of a probate.
Avoiding Guardianship:
When a person becomes incapacitated, and their legal, financial or estate affairs need to be handled, one course of action is to start a Guardianship. A Guardianship is a public court case, generally involving attorney's fees and possible litigation, and is subject to a judge's control. The proper documents can avoid a court case and control the issues. A Health Care Power of Attorney, as the HCPAD in the Dignity section provides, can handle the important health care decisions for you. A DPOA can handle your financial and estate matters, avoiding the need for a Guardianship. Both of these documents are very powerful tools.
Wills:
When you die, your property passes on. A Will directs how this is to occur. Generally you do not need a Will if you have no significant assets at life's end, if there is no prospect of assets coming into your estate after you die, or if all your significant assets or real estate are held with Rights of Survivorship. However, for those who possess some significant assets to be handed down, the most common procedure to accomplish this is with a Will. Married or registered couples in Washington State may wish to also use a Community Property Agreement as discussed on page 22, although you should receive legal advice before signing such documents.
Page 21
---
Why have a Will?
Having a Will avoids apprehension regarding the distribution of your assets, as a Will can answer many questions. It shows you care your beneficiaries receive your assets in an orderly fashion, and you are making the process as convenient as possible. A Will can avoid potential confusion and conflict by nominating a Personal Representative (PR) who takes responsibility for carrying out the requests of the Will. It can also waive PR Bond requirements and court approval of the PR's acts, which minimizes expenses. A Will can nominate guardians or trustees for minors, or trustees for beneficiaries who lack maturity to handle valuable assets or are troubled with issues such as chemical dependency. A Will can also set up special trust provisions that may save taxes, preserve assets from being expended on reimbursement to Medicaid, or even affect eligibility for Medicaid. To be eligible for Medicaid, one must pay down their estate to $2,000. If a Will has trust provisions, referred to with various different names such as Special Needs Trust, then an applicant for Medicaid may have assets at their disposal through the trust that will not be counted as being "owned" and part of the $2,000 calculation.
Would it make sense for assets of a "healthy spouse/partner," who unexpectedly dies, to be transferred to a compromised spouse/partner destined to remain in institutional care, when such assets will need to be depleted before Medicaid becomes available? Such assets might also go for reimbursing the state after the applicant's death when those assets might possibly be given to children or other beneficiaries instead. It is advisable to seek legal advice regarding the execution and terms of a Will, and such documents should be reviewed regularly when circumstances warrant modification of their terms.
What if you do not have a Will?
For those without a Will, Washington State has a formula that directs the passing of assets to either your spouse/partner, your children or your relatives depending on the circumstances of your family situation and whether the assets are separate or community property. A Guardian Ad Litem may be appointed for minor children receiving assets, as the surviving parent may have a conflict of interest in the passing of an asset, such as the family home. The formula used by the state may not be how you wish the assets to be passed. All of these issues can be controlled by a Will.
What is a Community Property Agreement?
Sometimes called a Survivorship Agreement, the Community Property Agreement in Washington State allows all community property to be passed to a surviving spouse or domestic partner. When a married or registered couple wants their assets to pass to the survivor, they can supplement their Will with such a document. With a Community Property Agreement, the passing of the assets to the surviving spouse/partner can be done without probate in a simpler and less expensive procedure. Some Community Property Agreements have terms that convert separate property into community property to assure the passing of all assets. Legal advice should be obtained before entering into these types of agreements.
What is Probate?
The probate process begins by the Personal Representative (PR) taking a Will into court, asking a judge to submit the Will to court procedures. If there is no Will, the PR asks the court to open a probate and administer the estate according to statute. Notice of the case must be given to the State and Federal governments, to heirs, to beneficiaries of a Will and to creditors. In most cases creditors are paid, assets are distributed to either the beneficiaries of the Will or heirs of the estate, with receipts signed by all, and the matter is then closed. A process called Small Estate Settlement avoids court hearings for estates of less than $100,000 and without land or buildings.
Page 22
---
Resources for Wills & Probate:
For help in understanding or creating your own Will, managing Small Estate Settlements, and Probates, see Resources: American Bar Association, pg. 63; NOLO – Law for All, pg. 66; Washington Law Help, pg. 66; Washington Probate, pg. 67.
Spending and Gifting:
You may even choose to begin the distribution of your assets prior to death. In the calendar year 2016, the federal estate tax laws currently allow the gifting of $5,450,000 (adjusted annually for inflation) tax- free either before or after death, and up to $14,000 of assets per gift, per recipient allowed to be given yearly to an individual which won't even apply to the $5,450,000 limit. States have varying thresholds for gifting at death, and in 2016 Washington State is $2,079,000. In addition, Washington State does not have a gift tax for "during life" transfers, so you can reduce your estate below the taxable limit and avoid this expense. Why not begin to downsize and de-clutter your environment? It will make your Personal Representative's job easier, and may even result with less stress in your own life.
When applying for VA benefits or Medicaid, a myriad of rules come into play and for Medicaid each state is different. Certain assets are considered exempt under Medicaid rules when making application, such as a primary residence or improvements to it, a vehicle, personal property, or burial plans or plots for themselves or family members. A person may choose to "spend down resources" and purchase exempt assets to reach the $2,000 maximum level of assets allowed to be owned when making such an application. It might even be possible to "spend up" such as acquiring a primary home of greater value than what is currently owned. Gifting, although not considered "gifting" in the true sense of the word, may be an additional mechanism available to preserve assets and prepare your eligibility for potential VA or Medicaid benefits. Of course gifting means giving up control, so there is no guarantee that the individual(s) obtaining the gift will use such resources for your benefit. Generally, regarding VA rules, the gift needs to be made prior to the application. For Medicaid, there is a look back period of five years for any gifts given from the date of application. Making such gifts will result in a penalty of a certain period of time of ineligibility. This period of ineligibility could actually be greater than the five year look back period.
However, gifting of the family home to a spouse/partner, or to a disabled or minor child, is considered to be exempt from these rules. There are also special rules regarding children who have lived in the home for two years immediately prior to the application, or to siblings residing in and having equity interests in the home. Retirement accounts are an asset deemed available for the limitations, but not such assets when put into a Medicaid qualifying annuity. For all these issues there may be income, capital gains, or gift tax consequences. Seeking an attorney trained in elder care law, a CPA, or professional qualified to guide the applicant is strongly suggested.
Tracking of Assets:
It's a wonderful thing to pass on to your family or loved ones assets that may enrich their lives. Wouldn't it be a shame if your Personal Representative was not aware of such assets, or could not locate them? One last important step to being a good steward is to organize your financial information. We carry in our heads the location of deeds to property and titles to cars, the income tax records, insurance policies and even military discharge papers. Perhaps your spouse/partner knows too. If something suddenly happens to you both, would your Personal Representative know where to find all these records? While it is hard to prove, National Unclaimed Property Administrators asserts "More than one-fourth of all life insurance policy benefits go unclaimed on death of the insured, because family members simply aren't aware." They estimate yearly unclaimed benefits run in the hundreds of millions of dollars. Would you want that happening to the beneficiaries of your life insurance policies?
Page 23
---
Tracking and Extracting Your Digital Life After Death:
From pictures to bank accounts, Facebook to PayPal, we are now storing massive amounts of data and digital assets online and in the cloud. Intentionally we do not want access to these sites to be convenient for many, but we should contemplate the difficulties our survivors might encounter if we were no longer there to help in these final tasks. It is hard enough for ourselves to keep track of passwords, rescue email addresses and information on these accounts. Will our survivors be able to?
It is becoming increasingly reasonable to consider naming an online executor and recording your accounts and access information for them in a safe and secure location. Online digital storage businesses and programs offer a complete host of services for organizing and planning for the time you will be gone, including storing letters to be emailed after your death to loved ones, future postings for social media, etc. A good place to start is the US Federal Trade Commission website: www.consumer.ftc.gov and search 'online life after death'. Additionally, a general search for 'how to close online accounts' or 'how to close online accounts after death' will produce more than a handful of companies to consider.
Regardless of how you plan to provide this secure and personal information for your survivors, it will be important for someone to access online records, close out accounts, blogs, and shut down social media postings to protect your legacy from exposure to potential exploitation resulting from living forever in cyberspace.
Resources for Spending, Gifting and Tracking Assets:
Resources: Medicaid under U.S. Department of Health and Human Services, pg. 62; National Care Planning Council, pg. 65; National Council on Aging, pg. 65; National Unclaimed Property Administrators, pg. 65; and U.S. Department of Veteran's Affairs, pg. 62.
To have your wishes honored, it just makes sense to complete a Durable Power of Attorney and Will for the security of your estate.
Page 24
---
Page 25
---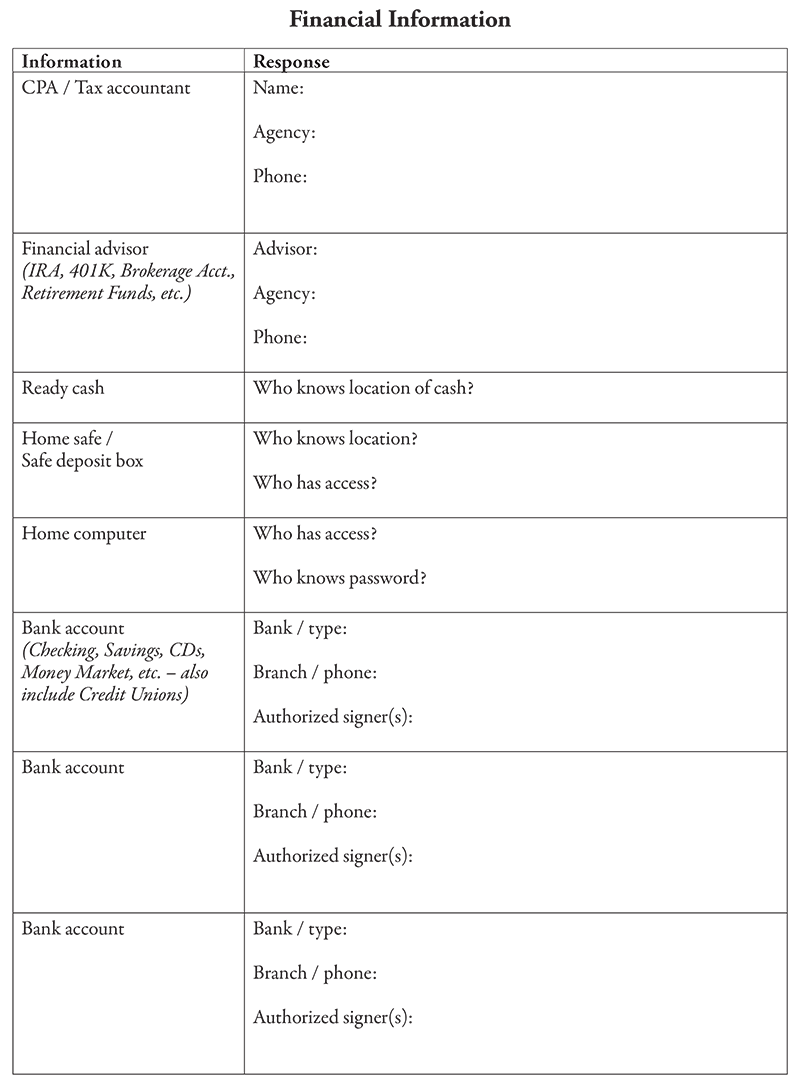 Page 26
---
Page 27
---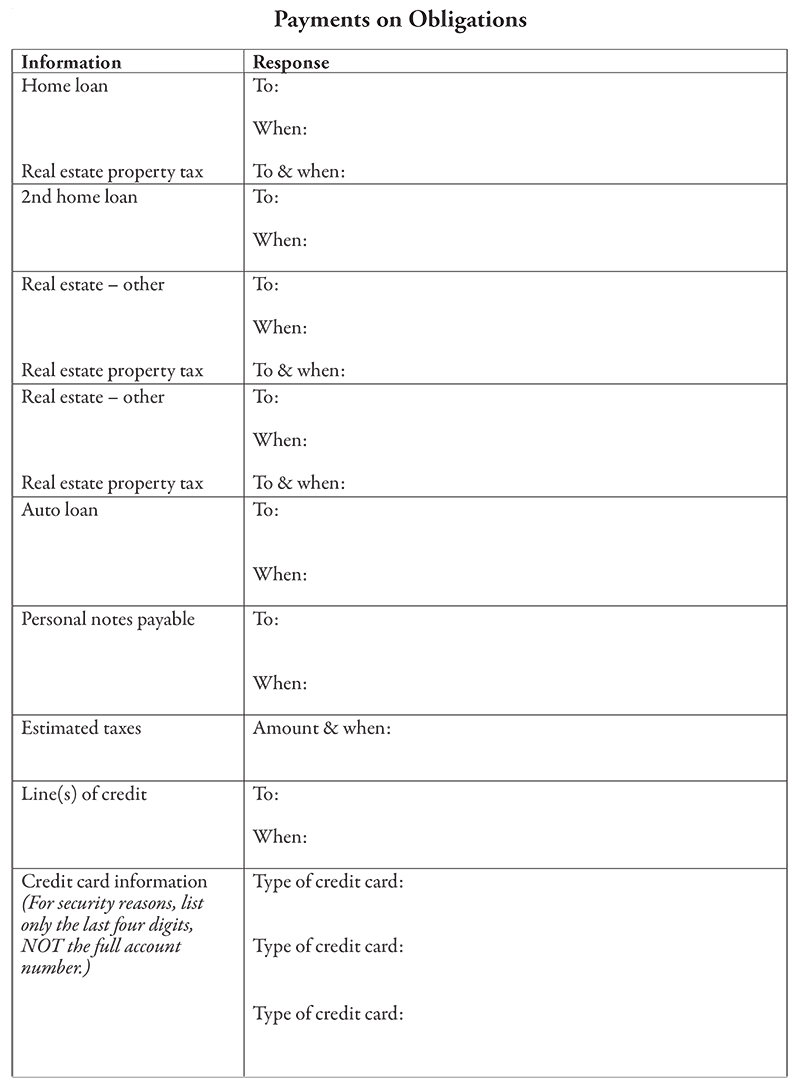 Page 28
---
Page 29
---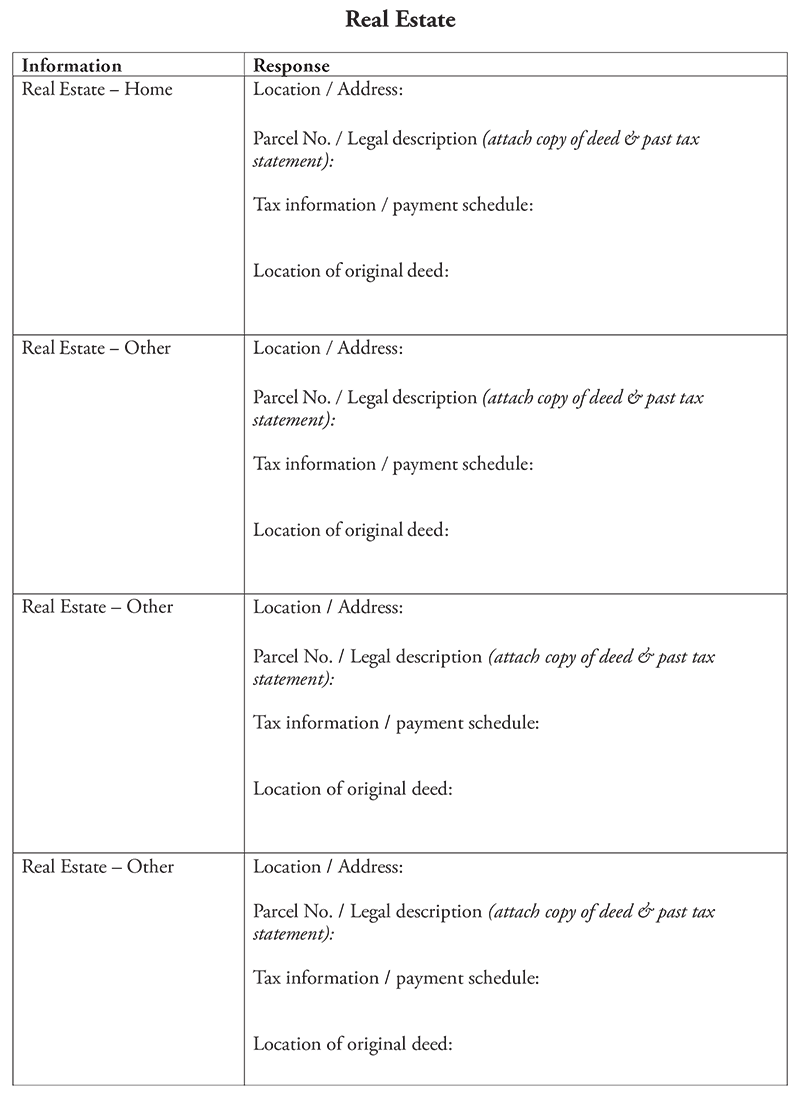 Page 30
---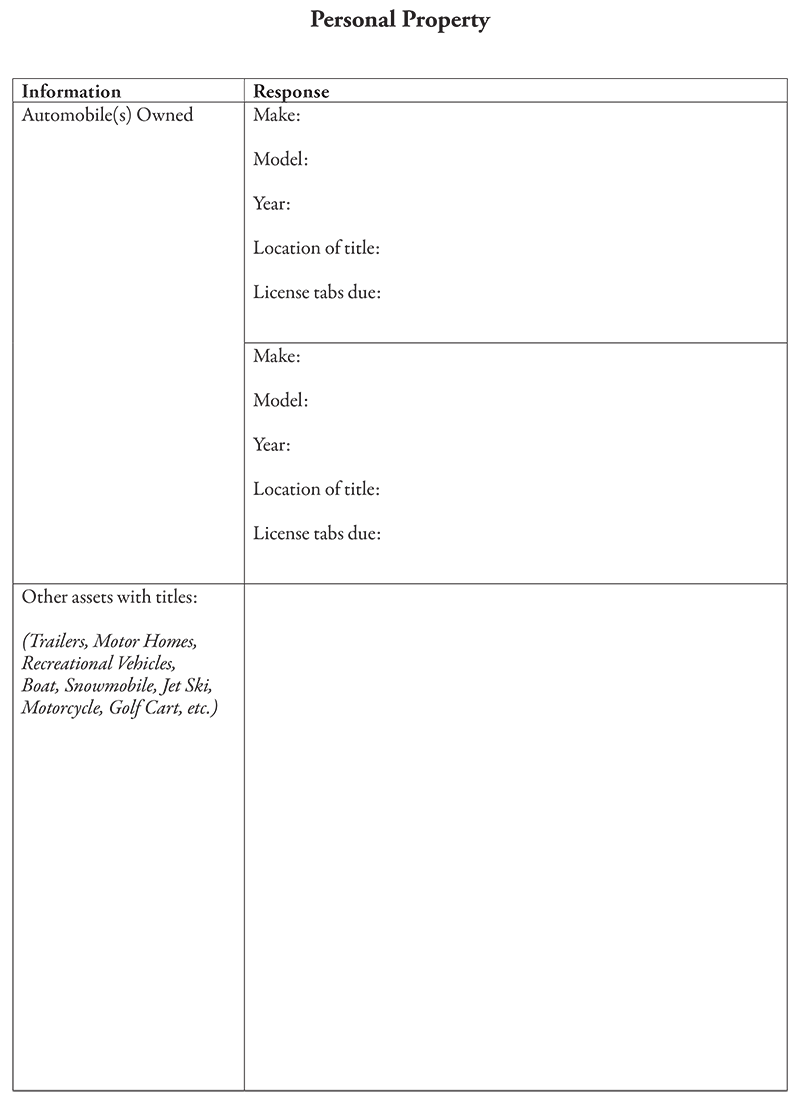 Page 31
---

Page 32
---
W
e plan and direct almost every event in our lives, yet typically ignore the culminating event – our dying. By planning in advance, and discussing with loved ones what is truly wanted directly before and after death, we make our religious, cultural and emotional wishes known in a thoughtful manner. This creates peace of mind, and may ease the trauma for others deciding poten- tially costly issues at a time of emotional crisis. Leaving a written legacy, healing broken relationships and determining final arrangements are important steps toward achieving the "ars moriendi" or good death. Being a good steward of time, talents and treasures as you live day-to-day is important to a life well lived. Adding the stewardship of dying well paves the way for your "ars moriendi" and provides the gift of peace for all concerned.
Over 80% of people describe a peaceful death as being at home surrounded by familiar things and people they love, yet over 85% of us die in hospitals or under institutional care. Why? If death occurs at home, must the decedent be immediately removed, or could there be the opportunity for loved ones to gather and grieve together? Death can be a very spiritual moment in time, and the experience for surrounding loved ones, while often sad, can sometimes be a cherished event.
Unlike our systematical research for other major purchases, we tend to wait until we are in immediate need to address end of life matters before we determine a budget and act. This limits options and creativity, and puts undue stress and anxiety on those making hard decisions. It will be important for family and friends to add their own touches to create a meaningful and appropriate ceremony celebrating your life, but your input in advance will likely make many decisions easier. Will your remembrance be a true celebration of life, and perhaps might you even have a chance to put the 'fun' back into 'funeral'?
Body Disposition:
In Washington State you have the authority to determine the disposition of your own remains, and HMW encourages all adults to answer the fundamental question of whether or not they want their body buried (interred), cremated, or donated to medical science. You can also choose a representative that will control all issues over funeral ceremonies. The Body Disposition and Funeral Agent Authorization form at the end of this section controls these decisions.
Pre-Planning for your Funeral and/or Memorial Service:
Waiting until death occurs and your family is grieving can result in emotional overspending. Oftentimes with the issues surrounding death, it is difficult to be wise consumers, to check different options or to weigh the value of services versus cost. Giving thought in advance, checking prices and comparing the services of several crematories and/or funeral homes will provide your loved ones with very helpful information. At the time of printing, prices in western Washington begin at $755 for cremation and $1,215 for body burial, depending on crematory and/or funeral home chosen, services and choice of containers. In addition, home funerals, being the historical model, are still an option and are increasing in popularity. Charges for plots and services for churches, halls and/or cemeteries are separate, and vary considerably between public, private or religious facilities.
Page 33
---
Page 34
---
Page 35
---
Options for Body Disposition
For many individuals few expenditures will cost more in their lifetime than the cost of final arrangements. HMW encourages all adults to do some pre-planning and comparison shopping before entering into a contract agreement for your own or a loved one's final arrangements. Consumer Reports and AARP generally advise consumers to plan ahead but not pre-pay for such services. Your plan for disposition of your body should reflect your personal values, goals, family preferences and traditions. Discuss ideas and plans with loved ones and be sure they know where to find information about any pre- arranged plans or memberships. Options for body disposition include:
For-Profit Crematories, Funeral Homes and Memorial Societies: Some or all services for final arrangements may be contracted with a crematory or funeral home. This professional service can include handling of the body, completion of the Death Certificate and related paperwork, arrangement for cremations, purchase of an appropriate container and details surrounding arrangements for a service. You are entitled to receive a price quote by phone, and will be provided with a General Price List if you go in person. You are not required to purchase all services offered by a funeral home, and may choose to make or purchase a container from another source. Loved ones may also choose to be responsible for some of the tasks related to the funeral or memorial service such as preparing the obituary. Resources: National Directory of Morticians, pg. 65; National Funeral Directors Association, pg. 65.
Non-Profit Memorial or Funeral Consumer Alliances: Established in 1939 to deal with the high cost of burial, these consumer cooperative alliances provide information and education about simple cremation or funeral services available in their area. In some areas they also contract with funeral homes for services discounted up to 66% off standard pricing. Consumer Alliances require a one-time membership fee, which in Washington State is as low as $35.00. Resources: Funeral Consumers Alliance, pg. 64; People's Memorial Association, pg. 66.
Cremation: Cremation is a growing trend, and the majority of human remains in Washington State are cremated. Costs can be minimized greatly, as there is less space needed for burial, and ashes can be scattered for free. There is less need for costly containers, and urns can be rented on a temporary basis. Advantages include more options for the timing of services, as a memorial service may be held without the cremated remains present. Crematories are associated with either funeral homes or cemeteries and their prices vary widely, for basically the same service. Be sure to determine if there is a fee for services and/or the cremation process (retort fee). Cremation costs nothing when making a body donation (see page 16). Resources: Body Donation, pg. 67; Cremation Association of North America, pg. 64.
Family Undertaking/Home Funerals: Washington State, under RCW 70.58.240, does allow for families to handle all arrangements concerning final disposition, with the exception of embalming and cremating human remains, and body burial must be in a cemetery. An under- standing of the law and advance planning is necessary as crematories, funeral homes and health care facilities are not generally accustomed to families handling all arrangements themselves. Resources: Home Funerals, pg. 67.
Funeral Products: Caskets, coffins, urns and other products are available through a variety of vendors, and your funeral home is required to accept these products with no additional service charges.
Page 36
---
The circumstances surrounding the death and the location of death will impact decisions regarding how arrangements are handled. HMW offers the following information for Washington State as a guideline to assist in making decisions that fit your personal preferences, but be aware that each county has their own individual regulations and particular way of doing things.
The protocol used for your county or even for the individual institutions involved in your case may result in different modalities being chosen.
In the populated counties surrounding Puget Sound and Spokane County, the Medical Examiner/ Coroner (ME/C) might be contacted, depending on circumstances, to determine whether to conduct an investigation themselves, or choose to have No Jurisdiction Assumed (NJA) and assign an NJA case number designation. Once the investigation is completed or an NJA is given, the ME/C can then approve the removal of the human remains either by a crematory, funeral home or, the family themselves may move human remains with a Burial Transit Permit.
A Death Certificate must be completed. This service is typically performed by the crematory or funeral home, but it can be performed by family members. The attending physician or ME/C must state the cause of death and sign the Death Certificate within 48 hours of death. The Death Certificate must then be filed with the local registrar (generally the county Health Department) within 3 business days of death and prior to permanent disposition of the human remains. Depending on the circumstances, the family can take human remains to a place of final disposition (crematory/cemetery) once a Death Certificate, which includes the Burial Transit Permit, is filed.
When a deceased person is received by the funeral industry, the body must either be refrigerated, embalmed, cremated or buried. In Washington State, laws protect the various cultural, religious and personal family preferences for caring of the deceased. If the body is to be cared for by family members prior to cremation or burial, refrigeration must start within 24 hours of death, and can be accomplished simply by using dry ice or frozen sealed packs. Cremation or burial is expected to be accomplished within a "reasonable time" afterwards.
Additional circumstances related to the location of death may dictate options to choose:
Pages 37 & 38
---
Selecting the Final Resting Place
Cemeteries:
Cemetery prices and services are separate from funeral home or cremation costs, and can vary widely as practices are not uniform within the industry. Generally speaking:
Municipal or faith-based cemeteries are less costly than private ones.
Caskets may not be mandatory. Most cemeteries require grave liners or vaults for body burial to prevent the ground from settling. Typically, grave liners are less expensive.
Urn liners or vaults may be required for burial of cremated remains.
Ask about all potential fees and charges to compare prices for headstone, service fees, perpetual care fees, and opening and closing of the grave, columbarium or mausoleum.
Home Burial:
A Home Cemetery site may be designated in Washington State, provided state licensing requirements are met, including a $25,000 deposit for the purpose of maintaining the site. Permanent easements on the property may reduce future property values. There are special rules for being buried on an island. Resources: Washington State Department of Licensing, pg. 63.
Transportation and Disposal of Cremated Human Remains:
Special containers do not need to be purchased. Use any container as long as it is sturdy and large enough to accommodate 7-10 lbs. of cremated remains. Cremated remains may be transported by private party, by commercial airlines in a container that can be scanned by x-ray, or by Registered Mail through the U.S. Postal Service (other mail carriers will not accept them). Survivors may also:
Retain the remains in their private possession.
Arrange for the crematory or funeral home to dispose of the remains for a fee.
Contact the U.S. Department of Veteran's Affairs to scatter a veteran or dependent at sea.
Scatter or bury on private property with permission. Owner retains property use rights.
Spread the remains at a designated "Scattering Garden" at the crematory, some cemeteries or churches. Fees are substantially lower than for burial.
Bury or inter the remains at a cemetery. Plots for burial, or niches for interment in a columbarium, often accommodate two or more sets of remains. There will be an opening and closing fee for each burial or interment. An urn vault is usually required for burial.
Public navigable waters under state control, including Puget Sound, the Pacific Ocean within the 3-mile limit, rivers, streams, and lakes. Resources: Washington State Ferry System, pg. 63.
Pacific Ocean beyond the 3-mile limit – these scatterings must be reported within 30 days to the Regional Administrator of U.S. Environmental Protection Agency, Region 10, 1200 Sixth Ave., Seattle, WA 98101. Resources: U.S. Environmental Protection Agency, pg. 62.
National Parks: contact the park for permit and regulations.
State trust uplands, after receiving permission from the regional manager for each scattering. Scattering by commercial services is not permitted.
For a fee, contract with private organizations to scatter cremated remains at sea or in the air.
Green Burial / Environmentally Sensitive:
Many individuals interested in protecting the environment are now bringing these values to the final stage of life as well. Referred to as green alternatives because of their minimal impact on the environment, this includes containers used and the type of cemetery chosen. Common chipboard coffins use formaldehyde, and whether cremated or buried disrupt local ecosystems. Biodegradable burial containers, like wicker caskets or burial shrouds, can be found online, and sometimes from funeral directors. Environmentally friendly cemeteries are less common, and may also be researched online. As a consumer driven market, the more citizens request these alternatives, the sooner they will become more readily available. Resources: Green Burial, pg. 67.
Page 39
---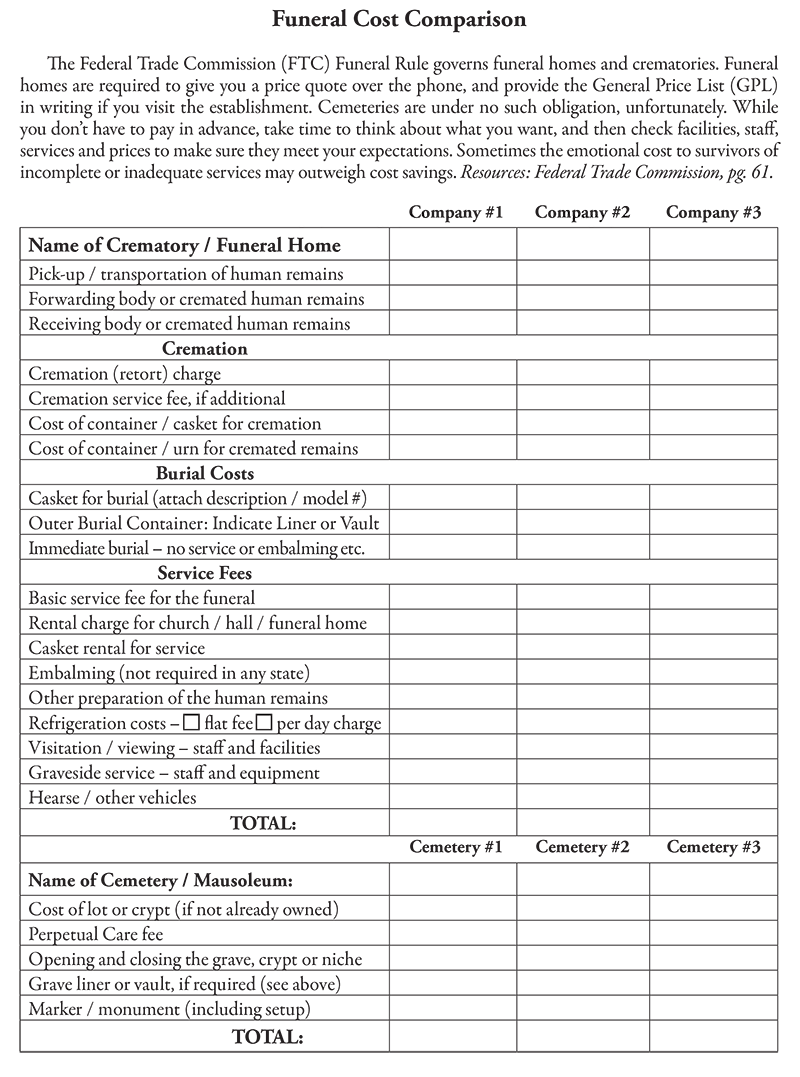 Page 40
---
Page 41
---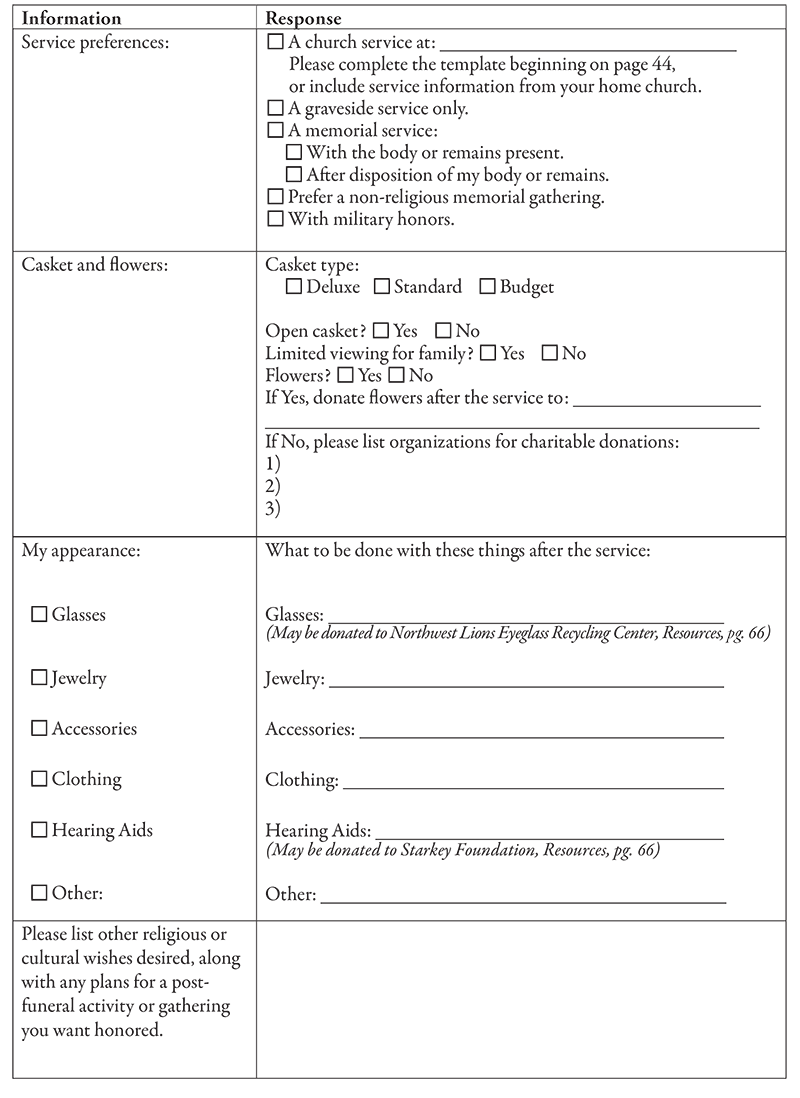 Page 42
---

Page 43
---

Page 44
---

Page 45
---

Page 46
---

Page 47
---

Page 48
---
Page 49
---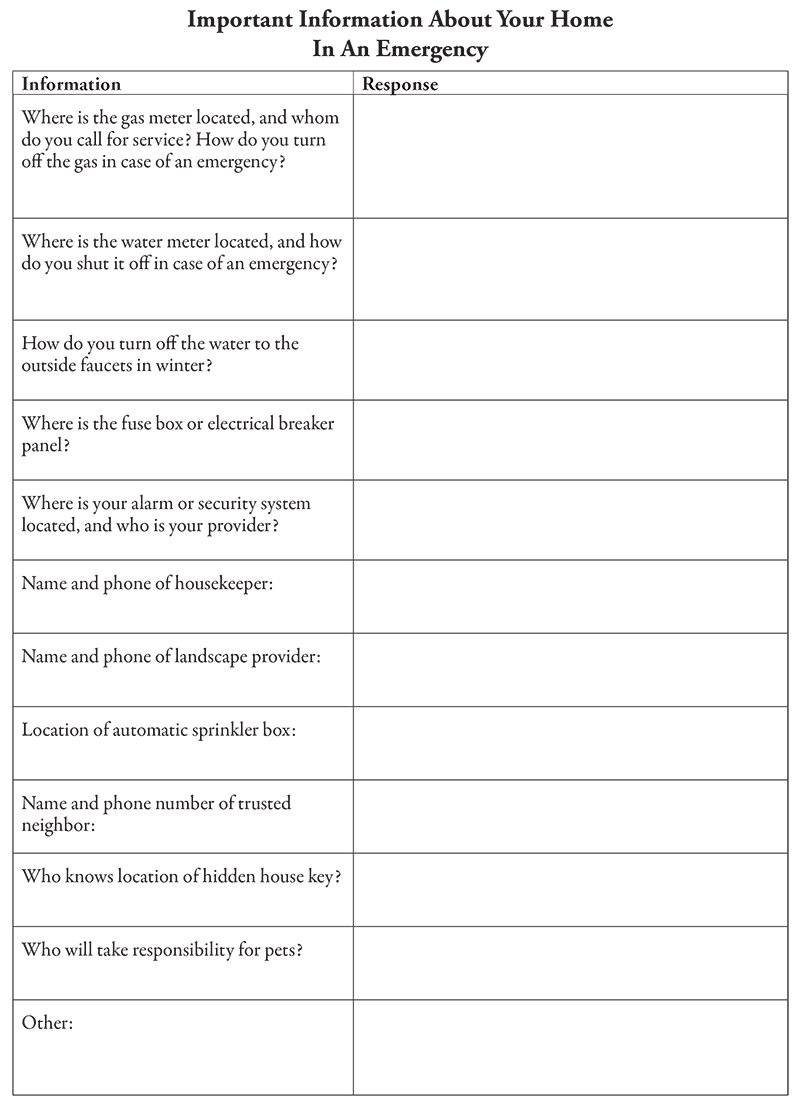 Page 50
---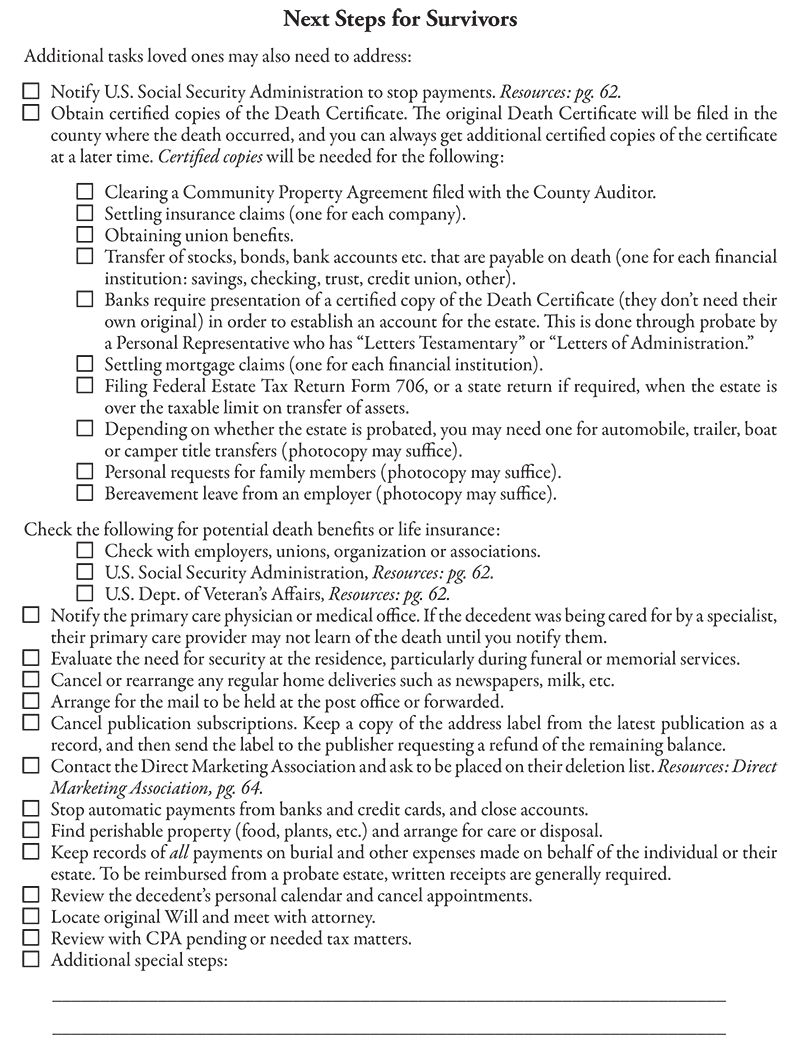 Page 51
---

Page 52
---
Page 53
---

Page 54
---

Page 55
---

Page 56
---
Page 57
---
About Our Family
Take some time to write about family traditions, values and any historical information you would
want to pass on to the next generation. This might include:
Holiday celebrations.
Stories about your heritage.
Best memories of being together.
Your family tree information.
Duplicate prior pages for other deceased relatives as needed.
Page 58
---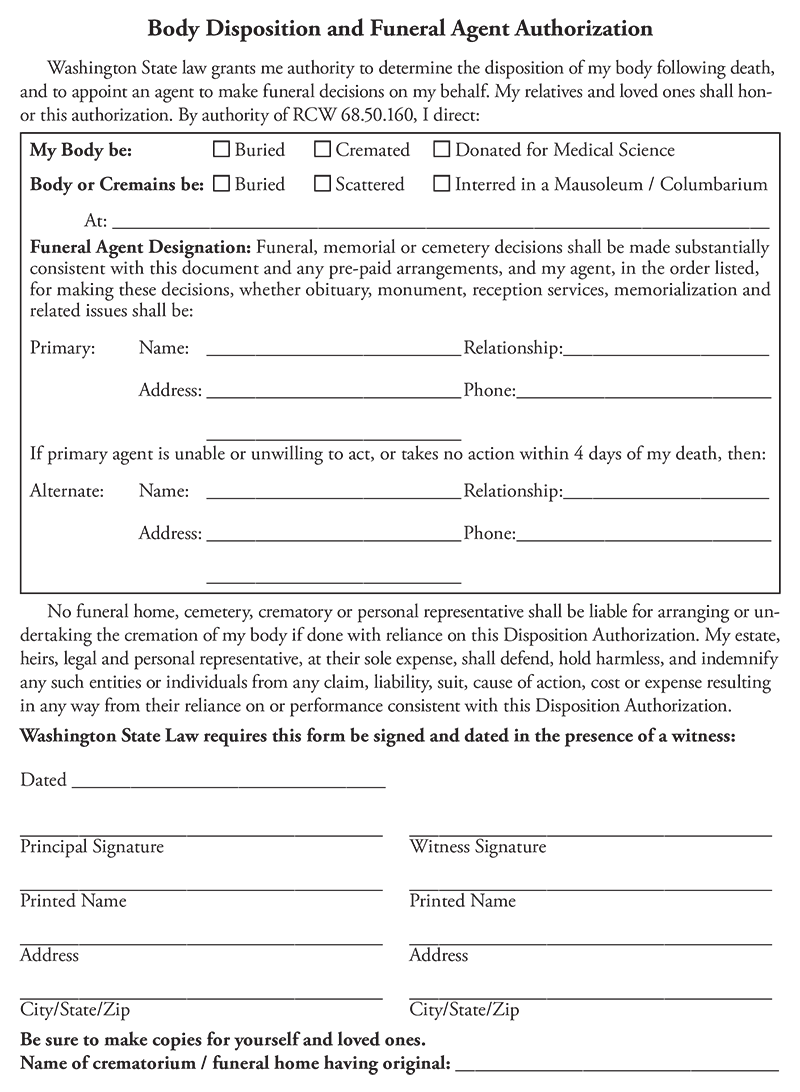 Page BDFAA-1
---
Resources
Disclaimer: HMW does not represent this to be a comprehensive source of information. Resources, websites,
organizations and associations are provided as a convenient starting place for the reader to discover more.
Texts / Other Media
Pages 59 & 60
---
Government Agencies
Pages 61, 62 & 63
---
Associations and Agencies
Page 66
---
General By Topic
Page 75
---